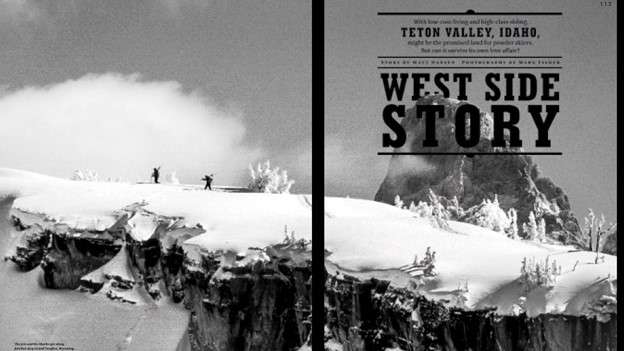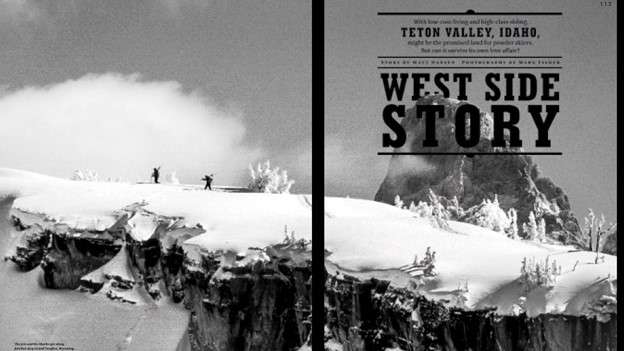 West Side Story
With low-cost living and high-class skiing, Teton Valley, Idaho, might be the promised land for skiers. But can it survive its own love affair?
November 30, 2016 By Matt Hansen
On a clear morning in January, Davie Agnew kicks and glides up Mail Cabin Creek, a steep and narrow drainage on the west side of Teton Pass, Wyoming. Agnew is 69 years old and doesn't skin very fast. His gear—K2 Work Stinx, G3 tele bindings, Scarpa T2s—is ordinary and unpretentious. But with a barrel chest and short, powerful legs, the old man plods along cheerfully and with surprising ease.
Like a keeper of the forest, Agnew delights in the long crystals of hoar frost sparkling in the sunshine. It hasn't snowed in more than a week, but he treats the day the same as any other. "There is no such thing as bad snow," he says in a thick Scottish accent, his bushy gray eyebrows jumping up from behind his sunglasses, "only bad attitudes."
Born and raised in Scotland during World War II, Agnew took up climbing and skiing as a teenager. After winning the Scottish national championship in wrestling and completing his apprenticeship at the local shipyard, he moved to Switzerland to teach skiing and climbing. There he met Royal Robbins and Yvon Chouinard, who told him about a place in western Wyoming that resembled the Alps. In the late 1960s, he found his way to Yosemite National Park, and, eventually, Jackson Hole. He lived in a chicken coop at the base of Teton Pass and worked for Outward Bound during the summers. After six seasons, he had enough money to do what has since become routine for hundreds of ski bums: He fled the high cost of Jackson to buy a house in Teton Valley, Idaho. In Agnew's case, it was a 100-year-old cabin in Tetonia, a small Mormon town on the bucolic northern end of Teton Valley, where rolling potato fields and deep canyons rise up slowly to meet the sheer west face of the 13,776-foot Grand Teton.
Agnew figures he's skied over 100 days a year for about 40 years, mostly in the Teton backcountry. Using three-pin bindings and leather boots, he pioneered many of the runs that have since become classics, including the "Do It Chutes," "Super Bowl," "Casino Bowl," and the intimidating southeast face of 10,352-foot Mount Taylor. Meanwhile, he watched the Idaho side of the Tetons grow from rural farming community into the promised land for skiers looking for something quieter, more affordable, and less resorty than Jackson, but with all the snowfall and access. What the "West Side" offered was cheap land minutes from Grand Targhee Resort and Teton Pass, an orographic lift that produces more than 500 inches of light, dry snow every year, and a backcountry that spans 50 miles along the untouched west slope of the Tetons. In other words, an accessible powder skiing experience whose purity and solitude was—and in many respects, still is—unrivaled almost anywhere else in the world.
Longtime Targhee cat ski guide Dana Stillson puts it this way: "The difference between us and everywhere else is that we're surrounded by potatoes. And potatoes don't ski."
But as Agnew can attest, that has started to change. Over the last decade, the very attractions that brought ski bums over the hill turned it into one of the fastest growing zip codes in the country. Betting on its potential, real estate firms from Jackson poured over Teton Pass and bought huge swaths of land, then jacked up the price. Farmers and developers subdivided the valley into thousands of lots, a process that was rubber-stamped by the local government. Golf courses, private communities, land swaps, traffic congestion, and—gasp—stoplights. Suddenly, the "quiet side of the Tetons" wasn't so quiet anymore.
Then, as seen in countless resort communities, the recession hit and the bottom fell out. The relentless march of development came to a screeching halt, including a plan that would greatly expand Grand Targhee's modest base village.
In the wake of the meltdown, the community seems to have come full circle. Real estate developers and bankers have headed for more fertile ground. What's left are skiers who came for different reasons. Jobs are not as plentiful as they were a few years ago, and hundreds still make the half-hour commute to Jackson every day. But the gripes aren't nearly as common as you'd think, for one simple reason: The clock has been reset. As Agnew has known all along, that means respecting your environment while making sure you have enough time to ski.
Making his way to the top of Windy Ridge, one of the many bowls west of Teton Pass, Agnew points out the "Memorial Chutes"—steep north-facing tree lines that he named years ago after his old dogs. "There's Juno, MT, DT, and Harry," he says. "But the kids all call them something else now."
Agnew throws his pack down at the top of the ridge, strips off his skins, and wraps them around his neck like a scarf. He is sweating under the warm sun but he's hardly out of breath. He leaves his pack on the ground and says he'll pick it up on the next lap, which is what you can do when you know the snowpack you're about to ski better than anyone else in the world. He smiles, takes in the view of Mount Glory, likely swarming with skiers, and sets off in a wide, parallel stance. His turns are short, smooth and controlled. With the snow flying up around his knees, he stretches his arms out to the mountain. To anyone passing by—something you rarely see out here—you'd swear he was giving it a giant bear hug.
The combination of low-cost living and low-cost skiing in world-class mountains has given the West Side of the Tetons a unique position in the ski world. There are no Starbucks or luxury hotels. No Persian rug galleries or year-round Christmas stores. What it does have is a single supermarket that's closed on Sundays; a few good bars, restaurants, and ski shops; a drive-in theater with a huge potato parked out front; and plenty of people who could help you frame your house or butcher your elk. Which is kind of how it used to be in most ski towns back in the day, until big money found its way into the mountains.
Once a popular foraging ground for Native Americans and fur trappers, Teton Valley was eventually settled by Mormon farmers in the late 1800s. As early as the 1940s, West Siders were skiing off of rope-tows on Pine Creek Pass and in Moose Creek. Grand Targhee opened in 1969 with two lifts on 9,862-foot Fred's Mountain. Boring name notwithstanding, Fred's is a 2,000-vertical-foot gladed hump that sits directly in the storm path. It's not the biggest or steepest hill, but more often than not, it gets drilled, where 40- to 50-inch storms are not uncommon. Being just an hour's drive from Idaho Falls, locals saw the ski area as an opportunity to bring in more business during the long winters. Hard core powder skiers from Sun Valley and Salt Lake soon started making the trip, but it always lacked a crowd.
"This place was dead," remembers Dana Mackenzie, a 54-year-old mason who moved to Alta, Wyoming, with his family in 1967. They were among the few non-Mormon families in the neighborhood and were immediately drawn to the mountains for play and work. His father was an outfitter, and his mom helped run summer ski camps on the permanent snowfields.
Once word got out that Targhee had good snow, tourists started making the trip each winter, and, slowly but surely, more people started moving in. Clair Yost, a folk hero among tele skiers for designing the "Mountain Noodle" backcountry ski, moved to Driggs in 1975. A passionate skier who was actually born in Teton Valley but lived elsewhere until after high school, Yost fell in love with the wildness and solitude of the western slope. In the early '80s, he started Teton Mountain Touring in Driggs, a shop and guide service that would eventually become Yostmark Mountain Equipment. He also ran an event for 26 years called the Nordic Fest, a rowdy booze-infused telemark ski race in an out-of-bounds area at Targhee that featured costumes, gates, jumps, and spectacular wipeouts. It always ended with a huge raffle party at Targhee's Trap Bar, where one of the most anticipated prizes was a dump truck full of free topsoil. "Back in the '70s, we used to call it the Valley of 40 Good Men and Two Good Women," says Yost, who sold his shop in 2004 and returned to Mormonism after many years of being the ringleader for the local ski bum scene. "Of the people who moved in during that time, they were all guys and they were all ski-oriented. When a lady moved to town, it was a frenzy."
Many of the skiers had long hair, which earned them the nickname "mountain maggots" from the valley farmers. Off the hill, they'd gather at Yost's place, the Teton Teepee in Alta, or at the Cedar Tree, a bar in downtown Driggs now called O'Rourkes. These were the melting pots for skiers, and the few places they felt welcome. But it was all about the snow. Day in, day out, there was a seemingly endless supply of fresh powder—and no people.
"We knew it was special," says Yost. "We felt very lucky to be here. It was the snow, and we always talked about it. I remember one year we had 900 inches."
In 1990, the valley had a population of 3,400, spread evenly across 450 square miles. Over the next 20 years, it became the fastest growing area in the state of Idaho, and now has about 10,000 denizens. Backed by friendly banks and zoning laws, developers subdivided thousands of acres with the flick of a pen. In 2004, Grand Targhee—always popular among families and ski bums for its cheap lift tickets and down-home atmosphere—obtained a controversial land swap with the U.S. Forest Service that grew its base area by 120 acres. Federal regulators managing the swap assessed the land at $27,500 per acre, which looked like chump change compared to normal real estate prices elsewhere in the Tetons. Once the land swap was in the bag, the resort won approval for a development plan that called for quadrupling Targhee's base village, from 100 lodging rooms to 450, along with associated retail and dining space. It was clear that Targhee's owners, just like the rest of the resort industry, saw their future in the well-heeled destination visitor.
Meanwhile, down in the valley, new homes were being built at such a fast clip that Victor and Driggs, once separated by eight miles of dark, lonely highway, were looking like one big suburb—a la the Wasatch Front.
"Five years ago, I was telling my wife, 'Where in the hell are we gonna have to go?'" says Mackenzie. "I was hating it. I was literally watching Teton Valley being torn apart from the inside out."
Then the economy crashed, and Teton Valley fell into one of the deepest holes of the nationwide recession. According to a report from High Country News, there are 7,200 lots today in Teton County, Idaho, that were planned and mapped out but remain vacant. The valley has one of the highest foreclosure rates in the country, dragging property values down and wreaking havoc on local businesses, especially construction. Development plans for Targhee have effectively been put on hold.
Having just gone through the boom-and-bust rollercoaster, West Siders—including elected officials and developers—agree that the silver lining of the crash is that it allows everyone to slow down and re-evaluate what they want for the future. For many people, not surprisingly, that means going back to their roots, including Targhee, which maintains its place in the community with relatively cheap passes (season pass, early price, $599), excellent backcountry access, and a down-home atmosphere.
"A lot of people are out of work and there are a ton of empty houses," says Yost. "But there's still a great feeling here. People are scraping by and relying on their friends. It's drawn the valley back a little closer to what it used to be like in the '70s."
Which is a fine place to be, especially if you like to ski powder.
Gary Mackenzie hasn't seen the skin on his face in at least a year. That's how long he's been growing a beard. It's only a fraction of the time he's been growing his long brown dreads, though, which dangle past his shoulders in an unruly mop. Same with his brother, Max, whose long hair resembles something you'd see on the set of Wayne's World.
Chips off the old "mountain maggot" block, the Mackenzie's were born and raised in Teton Valley (Dana is their dad). Gary, 29, and Max, 26, are part of the first generation of skiers who grew up from ski-bumming parents on the West Side. (Sage Cattabriga-Alosa, originally from Alta, is also part of that group, but has lived in Salt Lake since the early 2000s.) They ski, hunt, fish, snowmobile, tour, chop wood, drink beer, listen to reggae, and use their hands as masons for their dad. But what makes them West Siders more than anything else is their mellow and non-competitive approach to skiing. As ripping skiers and Grand Targhee Freeride Team members, they represent its past, present and future—partying hard one minute, ripping pow the next, and happily obliging out-of-towners.
Like Agnew, 40 years their senior, the Mackenzies know that skiing is not about vibing tourists or being the raddest dude in the world. They can go to Jackson for that. To them, skiing is about having a good time in the mountains with your friends. True to West Side form, they have built their lives around that premise.
Which, granted, is almost not a choice when it's right out your back door. The day I ski with them, we summit Beard Mountain, a small peak in the northern part of the Tetons. For the last couple of days, we've been lapping Beard's and staying at a backcountry yurt owned and operated by Rendezvous Backcountry Tours. The area is too remote for anyone not on a snowmobile— and protected wilderness prevents rampant motorized use—so Rendezvous' three yurts positioned throughout the range provide access to a kind of powder skiing that has largely gone extinct in the rest of the world.
The west face of Beard's consists of 2,000-vertical-foot shots through perfectly spaced glades. The north face drops 1,500 feet through more glades into a huge forested basin in the Jedediah Smith Wilderness, comprising 123,400 acres of rugged grizzly and wolf country. Beyond that looms the Grand, Middle, and South Tetons, which rise dramatically to form the jagged eastern horizon. Gary and Max have seen this view hundreds of times, but you can tell from their smiles that it never gets old.
It snowed 12 inches last night and broke blue this morning at a crispy six degrees. From the yurt, it was an hour-long skin to Beard's summit. Gary and Max trudge along in their baggy clothes, fat 4FRNTs and MFD plate bindings—not quite the crunchy tele gear that for many years was the chosen mode on this side of the range. Arriving at the summit just after 9 a.m., the world drops off into an ocean of blinding white snow. To the north, there's not a single track until you get to Montana. We can't see any roads, houses, or hotels. The Tetons have been graced with perfect snow. And if there's one thing that'll make a skier forget about anything else in his life, it's those few precious moments right before dropping into first tracks.
Josh Parker, our tall and lanky 29-year-old guide, takes the lead on the north face and digs a small pit. Given the season's upside-down snowpack and our remote location, his moves are cautious and deliberate. When he takes off, the snow flies into the air in plumes of crystal vapor. His shadow, cast against the trees by the morning sun, chases him down the hill. It's Gary's turn next, but he graciously defers. Not one to argue, I drop in. It's a mellow 35-degree slope, with a few rocky knolls and tree islands. The snow is just over knee deep. But the quality is grade-A dino-supreme—ice-cold virgin fluff that stings my face all the way to the bottom.
Gary goes next. Then Max. They don't hit any huge cliffs. They don't ski down backwards, though they could if they wanted. They just ski it the way it's always been done—not trying to impress anyone, just being in the moment of a turn as the immaculate snow slides beneath their skis.
Later that night over beers, they'll tell their friends about it. But for the most part, it's just another day in the Tetons. Tomorrow, they'll drive to Jackson to put stones on a multi-million-dollar house surrounded by a private golf course. It's tough manual labor and sometimes people give them shit about their hair. But the payoff is worth it. They know that when the next powder day comes, they'll be right where they need to be to get it.
If you want to see good live music in Western Wyoming or Eastern Idaho, colloquially known as WyDaho, you don't go to the Mangy Moose in Teton Village; you go to The Knotty Pine in downtown Victor. The Knotty is the new melting pot—where old trucks are parked next to new Subarus, and old Subarus are parked next to new trucks. As the community has grown, it means people have fewer reasons to drive over Teton Pass—even for those cultural things like live music. And in another sign that the melting pot continues to stir, this past year the local government rejected building plans for an LDS church, saying its large size was incompatible with zoning laws, but then approved a potato vodka distillery.
Yet no one is ever going to move to Teton Valley for the music—or the vodka. It will always be for snow and community. "If you don't like snow, and if you don't like six months of winter, don't move here," says Agnew, as he clamps on his tele bindings at the start of another day. "Otherwise, it's too hard."
The Scot is heading back up Mail Cabin, and he's as cheerful as ever. A fog rolls in from the valley floor, enveloping the forest in a rimy mist and covering Agnew's black wool hat with tiny ice droplets. About a mile up, he hangs a sharp left and climbs above a creek that gurgles and bubbles through random cracks deep within the snowpack. The trail gets steep for a spell, causing Agnew to slip. He instantly reaches out with his poles to catch himself, pauses for a second, and continues marching upward. Soon enough, the skin track vanishes, leaving the 69-year-old to break trail through eight inches of powder. He zigs and zags across the contours of the mountain, following the most efficient route. As always, he drops words of wisdom throughout.
"We're luckier than 99 percent of the people out there, and you know why?" he asks. "Because we wake up and put one foot in front of the other. And then we get to ski down."
Three hours later, Agnew finally comes to rest at the top of the East Fork of Mail Cabin. He pulls out a sandwich and a Thermos of hot tea and quietly eats his lunch without ever sitting down or taking off his skis. The scene is peaceful and serene, but not too far away there's probably a traffic jam on Teton Pass—a recurrent situation that deeply troubles Agnew. He wishes something would be done to accommodate all those people who want to backcountry ski. "It's insulting to the mountains," he says. "This is our soul. We need to treat it with respect."
When he finishes his lunch, Agnew stows his Thermos in his pack—which he will definitely carry this time as the slope he's about to descend is concave and covered in fresh snow. Signaling that it's time to go, he wraps his skins around his neck and tells his partners to keep their eyes on him. A cold wind blows through the trees. A Douglas-fir bends against its will and lets out an eerie creaking sound. Agnew takes off in his wide stance, arms outstretched to the world. The snow swishes up over his skis, and in a cloud of smoke, he hugs his soul.