Top 10 Coolest Budget-Friendly Hotels in the USA
By Karyn Wofford
July 12, 2022
Who doesn't love to travel? Most of us crave a getaway from time to time. But let's face it, it can be pricey, or downright depressing to book the cheap motel a few blocks away from the beach. But budget travel doesn't have to be depressing, it can be an exciting scavenger hunt with rewarding finds that won't empty your wallet. Sometimes the most memorable trips are the ones that really make us dig deep, but to get you started on planning the most awesome budget trip ever, here are some pretty snazzy accommodations across the United States.
Blue Door Inn – Estes Park, Colorado
One of the best hotels in Estes Park, Blue Door Inn is nestled in Colorado's most picturesque regions. You'll be amongst stunning wildlife while mountains drape across the background. From the outside, there are plenty of 1970 motel vibes to go around, but the Blue Door Inn has been renovated while still putting off that rustic charm.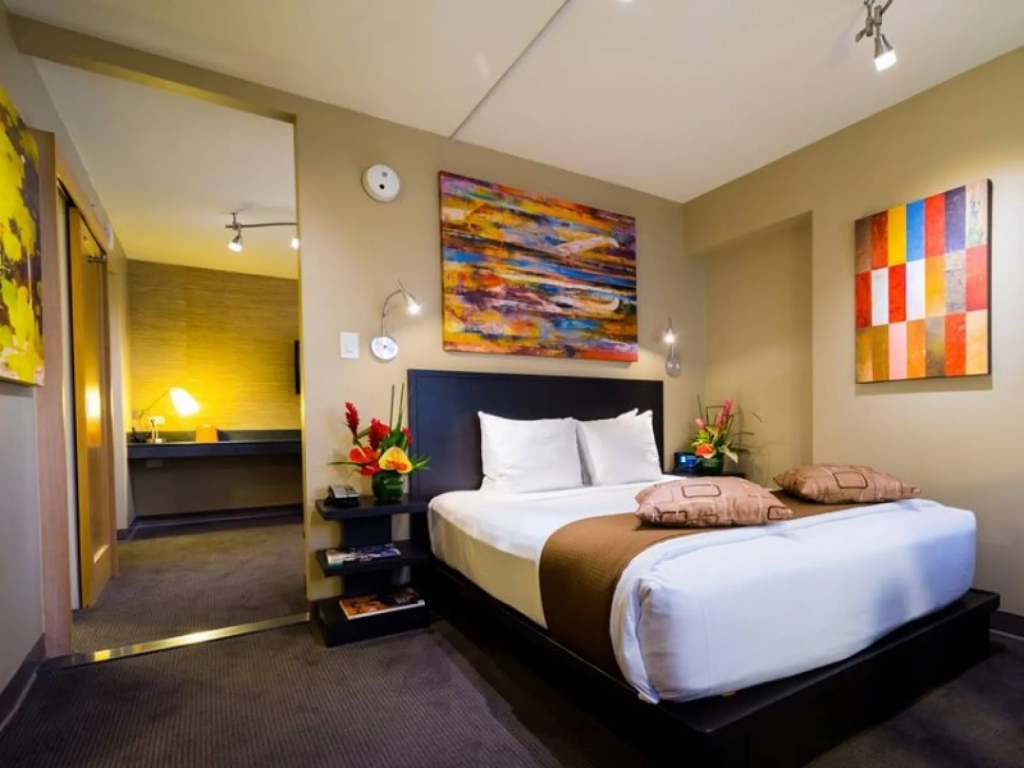 Vive Hotel Waikiki – Waikiki, Hawaii
Visit paradise without paying outlandish resort prices—you can snag a room at this modern tropical haven in Honolulu. That's fantastic given the rooms are very nice, as the prices at other hotels in the area can soar. As a bonus, Vive offers a delicious free breakfast, access to beach supplies as well as detailed, colorful rooms.
Inn at Cannon Beach – Cannon Beach, Oregon
Lush bushes, flowers, and other foliage make this place immediately welcoming, along with freshly baked treats scattered about the common areas. Going beyond average budget hotels, the rooms are huge and have details like fireplaces and warm coloring patterns. S'more baskets are up for grabs to take down to a beach bonfire—don't forget the hot cocoa!
Ouray, Colorado is a hidden oasis surrounded by striking mountains while featuring a majestic hot spring. Hot Springs Inn is just one of those magical places that catch guests off guard with simple appeal and stunning surroundings. Just a three-minute walk will take you from your southwestern-style room to the rejuvenating spring. Guests boast about the adorable nature of the authentic lodging spot, and also enjoy the complimentary breakfast served up in Native American-designed digs.
Hotel Glenwood Springs – Glenwood Springs, Colorado
Located near Glenwood Caverns Adventure Park, the family will have plenty to do besides touring the tunnels and formations. Hot springs hold ancient stories of healing, trails weave through the beautiful Glenwood Canyon, and whitewater rafting and fishing are just a few of the attractions in this lovely part of the state. Hotel Glenwood Springs exudes Alpine vibes, and the rooms are streamlined, often offering fireplaces and mountain views, the indoor water park offers a slide for adults and kids, along with a variation of pools to just relax in after a day of exploring. A continental breakfast is also offered.
Red Cliffs Lodge – Moab, Utah
Western cabin rooms, a heritage museum, a pool with scenic surroundings and an all-you-can-eat breakfast buffet round out this Colorado Riverfront establishment in Moab, Utah. You can see some iconic rock formations while being mere miles from the Arches National Park entrance and other natural havens. Quaint and authentic, Red Cliffs Lodge offers horseback riding in the deep canyons, a winery, and a selection of cabins or suites.
Watkins Glen Harbor Hotel – Watkins Glen, New York
Escape to New York's stunning wine country on Seneca Lake. The countryside is a totally different experience from the city and is just overall a spectacular place to let go. This Watkins Glen hotel is simple, with home-like decor, and offers lovely views of the water. Soak in the indoor pool and jacuzzi or grab a coffee from a station on your floor and step out onto a private, peaceful balcony. An onsite lounge serves great drinks and food to compliment your vacation in this wine-oriented part of New York.
Emerging above the evergreen trees in Alta, Wyoming, this fun little lodge is cozily constructed from wood, and really does look like a teepee. Rooms are pleasantly simple and welcoming, while the commons area allows you to warm up by the massive central fireplace. You can escape to a dreamy retreat in the woods, for skiing at Grand Targhee Resort, snowshoeing, or just a serene break from the world.
For more information, or to book your stay, please call or visit us at:

Teton Teepee Lodge
440 W Alta Ski Hill Rd
Alta, WY 83414
Pod 39 Hotel – New York, New York
Within walking distance to many significant sites of the city, Pod 39 Hotel offers modernly adorned rooms with bunk beds and polished industrial aesthetics. Pod 39 falls pleasantly in line with numerous current trends—the hotel is very "connected" offering a list of tech perks, a game room great for socializing, and a great little nook to grab some tacos onsite. If you're dreaming of a visit to New York City, you can save some serious cash, and have a fulfilling stay here.
The Venetian – Las Vegas, Nevada
Who doesn't dream of hitting the Las Vegas Strip at some point in their life? Well, it's not all too realistic for those wanting to stick to a budget. But Vegas offers so much more than gambling—from great food, sites, and entertainment, there are some uniquely outstanding places to bunk up, too. A top hotel in Las Vegas, The Venetian is a towering structure housing luxe rooms and indulgent interior design—further driving home the authentic Italian feel are the gondola boat rides available in the Grand Canal outside the resort. So basically, you can visit Italy and Vegas at the same time.