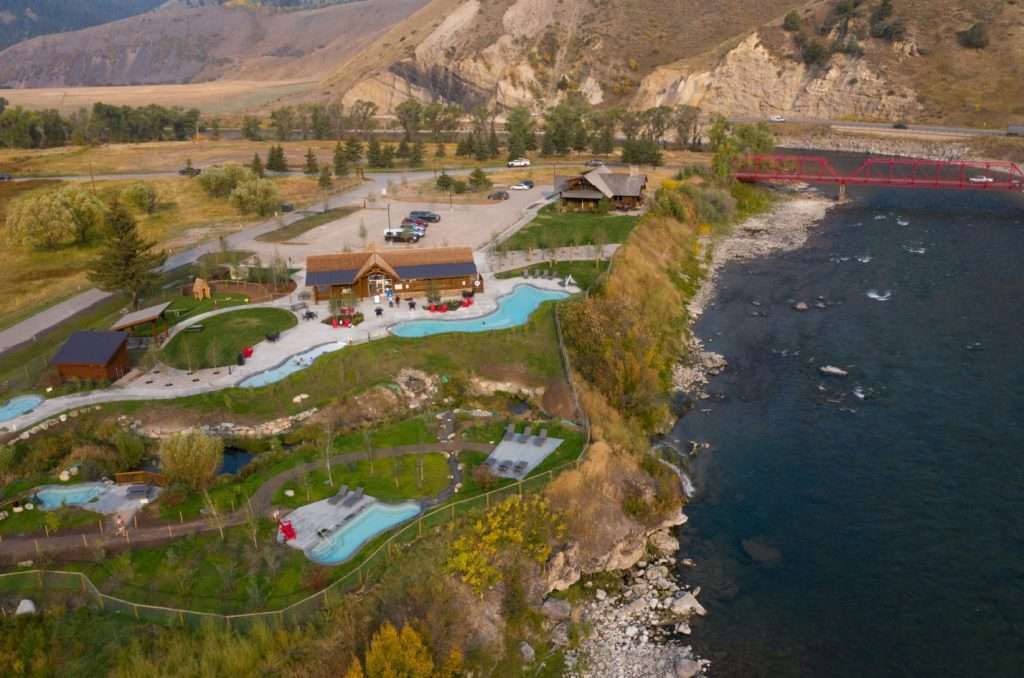 Astoria Hot Springs Park
Connecting our community through inspiring experiences in nature that improve livability, health, and wellbeing.
Stewarded by Astoria Park Conservancy, Astoria Hot Springs features 5 different man-made soaking pools filled with natural thermal waters, which are controlled at different temperatures in each pool. Situated within Astoria Park and along the banks of the Snake River, Astoria Hot Springs is one of Jackson Hole's most unique outdoor experiences and family-friendly activities.
HISTORY OF ASTORIA
DAVID STUBBS
NATIVE AMERICA
Astoria Park Conservancy acknowledges with respect that our facilities are situated on the aboriginal land of several Indigenous communities including the Shoshone-Bannock, Eastern Shoshone, and Cheyenne peoples. Indigenous people continue to live in this area and practice their teachings and lifeways. Many tribes believe hot springs are sacred to healing and connecting with Mother Earth, and we honor their history in our valley and at Astoria.
We recognize this historical context and are working to steward Astoria's land with respect to its history and honor those who have deep ties to this space.
JACKSON HOLE HISTORICAL SOCIETY AND MUSEUM
EARLY 1800S
FRONTIER DAYS
In the early 1800s the first beaver trappers came to Jackson Hole, including the Astorians in 1811. The Astorians, representatives of John Jacob Astor's American Fur Company, were venturing west to locate a trading post on the Columbia River. The Astorians traveled over Union Pass and along the Hoback River before reaching the confluence of the Hoback and the Snake. They debated the possibility of abandoning their horses and traveling down the Snake River in dugout canoes instead. Three men were sent down the Snake River Canyon to determine if the Snake, then known as the Mad River, was navigable. While the rest of the Astorians began to construct dugout canoes, two Shoshoni men entered the Astorians Camp. Using sign language, they conveyed to the Astorians that it wasn't a good idea to float that section of the Snake. The Astorians broke camp, and with help from the local Shoshoni, headed over Teton Pass. The Astorians succeeded in making it to the Columbia River, and were the first to cross the continent since Lewis and Clark.
JACKSON HOLE HISTORICAL SOCIETY AND MUSEUM
EARLY 1900S
JOHNNY COUNTS
The known white settler to make Astoria their long-term home was prospector Johnny Counts in the early 1900s. Johnny Counts would pan up to 100 wheelbarrows a day of silt and gravel from the Snake River and its tributaries. This amounted to about a penny's worth of gold per wheelbarrow. During the time Johnny Counts lived at Astoria, the area was known as Counts Hot Spring or Johnny Counts Flats.
LATE 1900S
ASTORIA POOLS
Robert Porter bought the Astoria land in 1960 and started a project to build structured pools. The project was completed in 1961 and soon became a treasured space for the local community to gather and create memories. For swimming, there was a 40-by-80-foot pool, from two to eight feet deep, with a smaller adjacent pool for wading and soaking. The Gill family, who had cared for and owned the park since its establishment, were forced to sell in 1998 when the park became no longer financially feasible to sustain.
2012
TPL CAMPAIGN
When a plan to bulldoze Astoria and create a luxury hotel arose, The Trust for Public land stepped in and kicked off a $6 million campaign to protect Astoria and revive this treasured space for the community.
2018-2020
ASTORIA REVITALIZATION
In 2018 Astoria Park Conservancy was founded and with our partners at the Trust for Public Land, the $6 million campaign was completed. 2019 brought structure and systems to Astoria Park Conservancy's mission, growth in our board, and the beginning of a formal three-year strategic plan, all while we were breaking ground on construction. As of January 2020, Astoria Park Conservancy became the official stewards of the 100-acre property set to become Astoria Hot Springs and Park.